How to File for Bankruptcy
How to File for Bankruptcy
Once you've determined that bankruptcy is the most suitable option for you, there is a process that needs to be completed, which involves your local County Court.
Where to start?
After you've sought financial advice, you can either file the required paperwork yourself, or use the help of a Solicitor, Insolvency Practitioner or Bankruptcy assistance service to take care of everything.
Professional guidance can ensure that all Court paperwork is completed, creditors are kept at bay, legal action is averted, and that you are fully informed every steps of the way. These services come at a cost to you.
Doing it yourself may be daunting, but there are various resources available on this web site and many others which could assist you. Be aware that there is a lot of conflicting information available online, and you would benefit by at least discussing your situation with someone that has been made bankrupt in the last year. A recent bankruptee is important as the Insolvency Service made amendments to the criteria in April 2011.
In addition, the court fee, which needs to be paid to the Court on the date of your bankruptcy hearing, is £700.
You could qualify for the reduced cost, which is £525, but this depends on various factors. An advisor will be able to determine whether or not you do qualify for a court fee remission.
I'm ready to petition for Bankruptcy
Once your Debtor's Petition and Statement of Affairs are complete you can attend your local County Court and present the paperwork. Depending on the court you may need to book an appointment ahead of time, and they usually require three copies of the paperwork.
After you've paid the court costs the District Judge will make their assessment and notify you.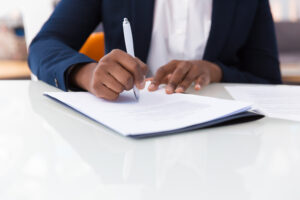 Successful Bankruptcy Order
If the bankruptcy is successful you are no longer responsible for your current unsecured debts.
Typical duration for a Court Hearing is at least 30 – 60 minutes. You'll receive a Bankruptcy reference number once the Order is approved. You can provide this number to any creditors that call you, as they may not receive notice of your bankruptcy straightaway.
Approximately 1-2 weeks later the Official Receiver will have contacted you just to make sure that everything is correct and to discuss the transfer of any assets – if necessary.
The majority of bankruptcies last for 12 months, but some factors such as gambling or previous insolvency may increase it.
Although your credit file is adversely affected, you will have an opportunity to rebuild your financial position without the burden of debt holding you back.